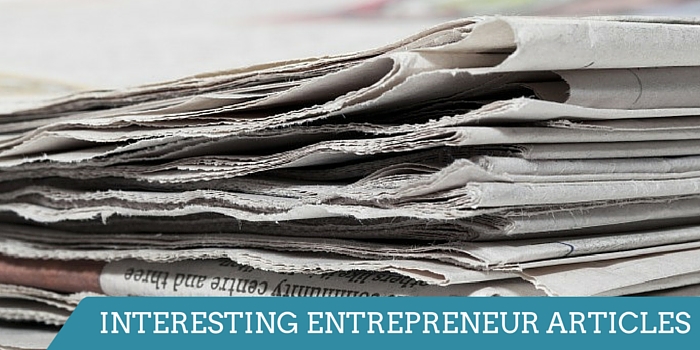 When I'm looking for inspiration or tips on being a better entrepreneur, one of the things that I always do is head on over to Google News and type the term entrepreneur. This happens a few times a week and I am always amazed at some of the articles I come across or stories of other entrepreneurs doing something amazing. Here's a few stories that caught my eye over the last few days that I thought I would share.
An 11-year-old entrepreneur's e-commerce play… safe and secure passwords
I'm always a sucker for a good kidpreneur tale and Entrepreneur.com did a great job of covering Mira Modi's secure password business located at Dicewarepasswords.com. Instead of a random password generator filled with letters, characters and punctuation symbols that are next to impossible to remember, Mira's accepts orders from customers and then uses a series of dice rolls to come up with a six word password that is unique and memorable. Instead of delivering these online, Mira writes these down on paper and sends them in a sealed opaque envelope via the United States Postal Service to avoid detection by the NSA. Apparently U.S. Postal mail cannot be opened without a warrant. Smart girl!
Read the article here >> http://www.entrepreneur.com/article/252763
Order your secure password here >> http://www.dicewarepasswords.com/
Profiting from composite hockey stick repairs
When I played hockey, the majority of sticks were made of wood and were relatively inexpensive. Well, at least the brands that I always favored. The game is much different than the one I played as a kid and composite sticks are must have sports equipment for youth and young adult players these days. The problem is they can cost around $300 a pop and they break. Joey Robertson has come up with a way to repair these expensive hockey sticks using epoxy and carbon fibre. His company, Integral Hockey Moncton, can complete this for around $70. That could equal big savings for hockey families over the course of the year. This uniquely Canadian business could be huge!
Read the article here >> http://www.cbc.ca/news/canada/new-brunswick/hockey-stick-moncton-repairs-1.3318865
What can entrepreneurs learn from Johnny Cash, Garth Brooks and Reba McEntire?
I'm a big country music fan and made the pilgrimage to Nashville this past summer to tour the area, see some of the historical sights, attend my first Grand Ole Opry and see some amazing live music at various bars and venues. Entrepreneur explores some of the lessons entrepreneurs can take away from the lives of 6 country music legends that made a name for themselves in that amazing city and around the world.
Read the article here >> http://www.entrepreneur.com/article/252174
Looking for a business book to help you with your journey
Whenever I'm looking for a new business book to read, I generally will just visit Google "Must read entrepreneur book" or something to that affect. A recent search brought up this Forbes article with 6 pretty solid recommendations. For the record, I've read three and started reading one of the other titles this week.
Read the article here >> http://www.forbes.com/sites/mnewlands/2015/11/12/6-books-every-entrepreneur-needs-to-read-right-now/