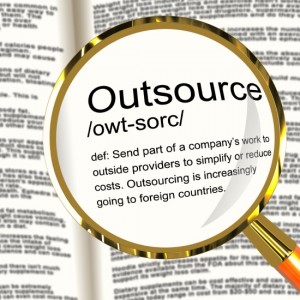 The demands of my online business were driving me crazy, and I finally came to the realization that I needed some help if I was going to grow my company and stay sane in the process. This lead me to start exploring outsourcing. As a freelancer myself, I knew what type of entrepreneurs I enjoyed working for, and I strive to be one of those people.
After a few initial stumbles, I came up with a system of finding talented people and getting work done quickly and efficiently. These projects have varied from coding projects to tasks that are completed by virtual assistants on a regular basis. I am currently working on a course and book in this area and thought I would start things off by sharing some of the benefits that I have personally experienced over the last couple of years.
Reclaim Your Time To Focus On Your Business
One of the biggest benefits of outsourcing is freeing up your time. Outsourcing tasks to qualified freelancers that you would otherwise have to complete yourself will free up time for you to concentrate on other areas of your business. So many times I have been personally caught working in my business instead of on my business. That's still the case today in some areas, but I am getting better at it.
Entrepreneurs tend to want to keep things close to their chest for control reasons, or they simply feel they cannot afford to hire someone else to complete day to day items. What you need to do is look at the tasks that you are completing and figure out what items you could do using that same time frame that will increase your business. How many new leads could you have reached out to in the four hours it took you to edit your last podcast? Outsource and reclaim your time to focus on growing your business.
Get Rid Of Tasks You Hate Doing
Take a look at the tasks that you do on a regular basis. Is there anything you dread doing? Are there certain tasks that are on your To Do list that constantly get pushed aside because you hate doing them? If so, this is a perfect task to outsource. You know the job needs to get done and yet it constantly gets delayed because you don't want to do it.
By outsourcing those particular tasks, you're going to realize a few benefits. First and foremost the job is going to get done on a regular basis. Secondly, you're going to have greater overall satisfaction in your business because you're not forcing yourself to do something that you don't enjoy doing. You can reassign the time you regularly spend in other areas of your business that you enjoy working on.
Expertise, Specialization, and Efficiency
I like to think of myself as a jack of all trades, master of none. I've dabbled in coding troubleshooting and alterations. I can bang out a decent banner design, and I'm pretty savvy when it comes to social media promotion. While I feel I have an above average proficiency in these various areas, there are freelancers out there just dying for your business who can offer a much higher level of specialization and expertise.
A graphic designer who does nothing but create stellar designs for his or her clients is obviously going to have a much higher skill level than yourself. They will produce better designs and be much more efficient at getting the product from idea to completion. A major benefit of outsourcing is that you can tap into others expertise and specializations to improve the overall product or task that you would otherwise complete yourself.
Cost Savings
Another huge benefit of outsourcing tasks is cost savings that you can realize. The simple truth is that the cost of living in other areas of the world are much lower than what we have in North America. As a result, the average hourly wage for trained and talented people in places such as the Philippines or India are proportionately lower. By using freelancers to complete jobs and tasks on your behalf, you are going to realize cost savings.
I don't personally recommend that you pick lowest bidders on projects or expect people to work for $1 an hour even if that's the average hourly wage for people in their respective countries. Set a budget for the work that needs to be done, review the qualifications of those interested in the job and negotiate an hourly wage or project cost that both parties are comfortable with.
Get Work Done While You're Sleeping
One of my personal favorite benefits of outsourcing is the time zone difference. The Philippines is my preferred location for freelancers, which is 13 hours ahead of our home office. I will send new assignments to my crew as I finish for the evening. On the other side of the world, my freelancers are just getting started on their work day. In most cases, when I start up my laptop in the morning, I have several completed projects waiting for me. The time zone difference cuts down on the waiting time for delivery of designs, coding alterations and content creation and has improved workflow in several projects.
The Talent Pool Is Massive
There is a great deal of talented people around the world looking to earn a full-time or part-time income through freelancing, and you can use that to your business' advantage. Post a project at popular sites such as oDesk and Freelancer, and you will experience this for yourself. Within hours, you will receive bids from qualified people from around the globe looking to help you and your business.
With such a massive talent pool at your fingertips, you can pick and choose those most qualified to complete your projects. You might also find experts in areas that you weren't originally considering. For instance, I was working with a virtual assistant on a research project, and they came up with a brilliant suggestion to improve social media engagement for a particular client. A quick pitch to my contact ended up in successfully completing a rather substantial project. These people are waiting to help your company or business endeavor in the same manner!
Positively Affecting The Lives Of Others
One benefit that most websites and entrepreneurs don't consider or publicize is the positive influence you can have on the lives of others. Some of the people that you come across are experiencing real struggles. One freelancer that I worked with for 18 months was working in a factory and getting the equivalent of about $15/USD a day. He had a wife, three kids and helped out his elderly parents as much as possible. As a result, he worked extremely hard for 10 – 12 hours a day and then returned home to put in as much time as a freelancer.
This individual was very talented in a number of areas and completed some initial tasks for me quickly and efficiently. I was so impressed with his work that I started sending him more projects and tasks. He became essential to my business in a number of areas, and I eventually sent him enough work that he was able to leave his full-time job and focus on freelancing.
Why did we part ways after 18 months? The experience that he gained working with me helped him open an outsourcing company, and he needed to focus on both his new business venture and building a house for himself and his family. He was able to save enough money to purchase land and materials to get his family out of the sub-par housing they were living in and build their home.
You are not going to connect on a personal level with people that you outsource to the same way that this particular individual and I did. If you do, it can be quite rewarding.
These are some of the benefits that I have experienced myself. Are there any others that you have personally experienced? If so I would love to hear from you. Please feel free to contact me if you're looking for some assistance or have specific questions regarding outsourcing tasks for you own company.