I was a bit excited when I got the latest invite on Facebook from the boys of Colt Harley, one of my favorite local bands. They're hitting the Legendary Red Dog on Friday, February 5th with none other then Zack Werner from Canadian Idol fame.
The Colt Harley boys always put on an amazing show although I haven't seen them in a bit. Last time I caught them in concert was at the Red Dog when their bass player Tommy did an accidental nosedive off the stage. They also did an amazing cover of Brooks & Dunn's Hillbilly Deluxe.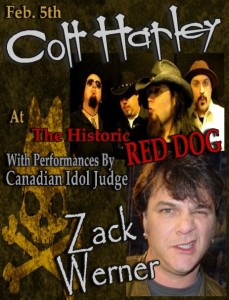 I had never heard of Zack Werner before he started as the harsh judge on the defunct Canadian Idol show. I knew he was in the management business but it will be interesting to see him up on stage. I'm sure a few drunk patrons of the Red Dog will give him a hard time for all the criticisms he dished out during his time on Canadian Idol.
Found a video of Zack doing a cover of The Eagles Take It Easy. It was part of the "Busking For Change" for War Child.
[ad]